Peachtree Market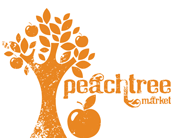 The Peachtree Market is a farm fresh, local food, grocery store located in Concord, NC in the courtyard of The Old Creamery at the corner of Peachtree & Church St. Open Tuesday-Sunday from 1:00-6:00.
Specializing in foods from North & South Carolina, we carry many farm fresh goods from beef, pork, chicken, eggs, produce, dairy, grains, honey and much more.
Healthy, organic, local, seasonal produce, low-heat pasteurized milk, goat cheese, farm-fresh eggs, ModPALEO, fish, sourdough bread, no added antibiotics or homone cheese, lamb.
On-line ordering is available through www.GOLocalNCFarms.com for weekly pickup.
Contact us at This email address is being protected from spambots. You need JavaScript enabled to view it. or 704-701-1695