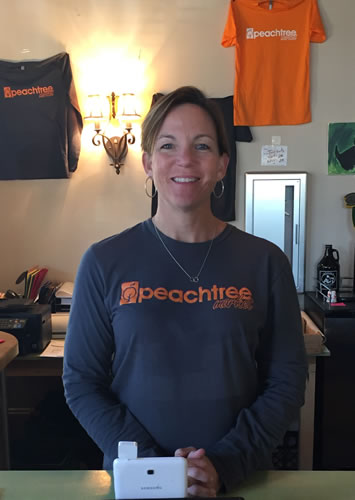 The Old Creamery at Church and Peachtree is home to a myriad of businesses and entrepreneurs. There's a consistent feeling of new ideas and new projects that bustle in and out of the doors. If you haven't been to the 'new' Old Creamery, you'll be surprised at the many establishments currently housed here.
One that has been a staple for several years, but continues to reinvent itself, is Peachtree Market--a market full of food and goodies made naturally, and with a commitment to ethical sustainment and farmer/seller relationships.
Peachtree Market was started with a few goals in mind: to create a consistent alternative to pop-up farmer's markets and to establish a place in the community where people could congregate and get to know their local farmers. What began as an idea to make great local food convenient to patrons on a daily basis, quickly expanded to a brick and mortar reality. With growth and the confidence and fervent work of marital team and owners Aaron and Jennifer Newton, Peachtree Market grew exponentially, and eventually landed in one of the more expansive spaces available at the Old Creamery.
Peachtree Market's Promise
Jennifer is quick to say that she is not a saleswoman. In fact, what Jennifer enjoys most are the conversations that occur within the market that comes from learning about new people and new, healthier, options in their community. In fact, "community" is at the heart of Peachtree Market. When you walk through the doors you'll see a grouping of chairs centered around a wooden coffee table ready for conversations and coffee. Whether you're bringing in Starbucks or Peachtree's flagship, locally grown and harvested "Enderly" brand, Jennifer wants Peachtree to be a place to gather, converse and learn about how easy it actually can be to eat healthy and local.
"People may not realize that you can walk out of work downtown, walk into Peachtree and walk out with a healthy, full-course meal," says Jennifer. Peachtree also carries and works with many of the same brands and farmers that big-market, whole-foods stores carry in the downtown area. She adds, "People may think that you have to travel to Charlotte to get a healthy, authentic brand, but we have that right in the heart of Cabarrus County at competitive prices—without waiting for a pop-up farmer's market."
On an average day you may find Jennifer talking to a local farmer who has just dropped off a crate full of sweet potatoes. They may review the events of the day or talk about the crops, but there is always the sense of hospitality and friendship. "I know each of the farmers, and every product has a story behind it, that I know and can tell our customers—that's what people love about our market when they visit."
Peachtree Market Nurtures Community Values
Community is a central part of Peachtree, and so is family. When Jennifer is not in the community at the pool (polishing her dual career as a swim coach), at the market talking with shoppers, or checking out neighborhood events, you can find her with her family. This desire to combine health, family and the achievable balancing of time, prompted Jennifer's decisions to introduce home-delivery, and to place a kid-friendly area in the market. This kid-friendly area has everything from potty-training books for children to dollhouses and Legos. Basically, a mecca for a kid who is tired of being dragged around on errands. "I saw mothers in stores struggling to shop and entertain their children. And my children often accompany me to the store. Having this area for children was a way to let families feel a little relief when shopping," she says.
For now, Peachtree is enjoying the positive words and daily activities while they engage with farmers and families. But, Jennifer has a few plans up her sleeve to really branch out at Peachtree. "We often have people come in and ask if we carry a certain product, and if we don't, I'm more than happy to look into it and consider carrying that brand," says Jennifer.
What's Ahead
Peachtree Market currently carries a variety of healthy drinks and snacks, including Lenny Boy's Kombucha beverages. Jennifer hopes to advance this sundries line into craft beer and other items. She's also looking into expanding to include items that may not be seasonal or grown in North Carolina. Avocados, for example, cannot be grown in our climate, but with the right trust and commitment to authenticity, Jennifer feels that finding a great brand of out of season products will help customers make Peachtree market a one stop shop.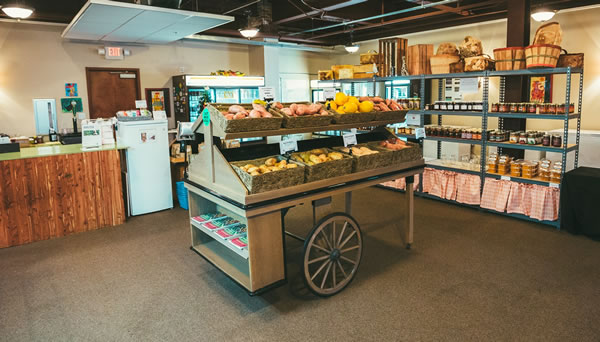 Jennifer is quick to note that Peachtree values authenticity above all. The owners use and eat the brands and products they carry. "If I don't use the product myself, or find value in it for others, I won't consider selling it," she says. It's this moral commitment to authenticity that fuels, and will continue to fuel, Jennifer's, her family's and her employees' enthusiasm for Cabarrus County and their market.
Stop by Peachtree Market (at 363 Church St N #180, Concord, NC 28025) the next time you are near downtown, or learn more about the brands and options for your local, healthy dinner on their website at www.peachtreemarket.com. You can also follow them on their Facebook and Instagram social media accounts.