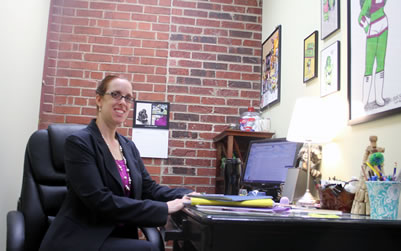 Meet Heather Mobley
A native of the Charlotte area, Heather Mobley graduated Magna Cum Laude from Appalachian State University with a bachelor's of arts in political science in 1998. After spending a few years post-graduation working as office manager for Mobley Electric Company, a business owned and operated by her family, Heather decided to pursue a career in law. She attended Wake Forest University Law School and graduated in 2006, taking a job soon after as an attorney with a family law firm in Greensboro, North Carolina. After spending several years building legal skills and gaining experience at the firm, she decided in 2011 it was time to open her own practice.
Building a Business
When she initially opened the Law Office of Heather Mobley, Heather was operating from a location in Mount Pleasant, NC. As an attorney focusing on family law, part of her daily work included representing clients at both the Cabarrus County Courthouse in Concord, NC and the Department of Human Services in Kannapolis, NC, each over twenty minutes away from her office. While she enjoyed her time in Mount Pleasant, there were times when the distance complicated matters for her clients.
"Sometimes clients either were unable to drive or didn't have access to a vehicle," Heather said. "Buses didn't travel to where I was originally located, so in these cases I would need to meet my clients in Concord, where public transportation is available."
Eventually, the complication prompted Heather to find a space closer to the courthouse and the DHS. She wanted to be able to create more efficiency within her day-to-day life at work.
"Since I've moved my practice to Concord, I've really benefited from the fact that I'm so close to the downtown area," she said. "My proximity to the courthouse and the availability of public transportation has simplified things for me in a big way."