Tenant Spotlight: Perry Productions

After operating a digital marketing/website development business from home for twenty years, Lisa and Brian Perry decided in the fall of 2014 that it was time to expand. The couple had been the heart and soul of Perry Productions since the beginning, but after seeing an increased demand for their services, they knew they'd need to hire additional employees. As parents of two boys, ages fifteen and eleven, the Perrys felt it was important that they develop a strong work-life balance as they built their team. They knew that finding the perfect office space would be an important decision in the future growth of their company.
Meet the Perrys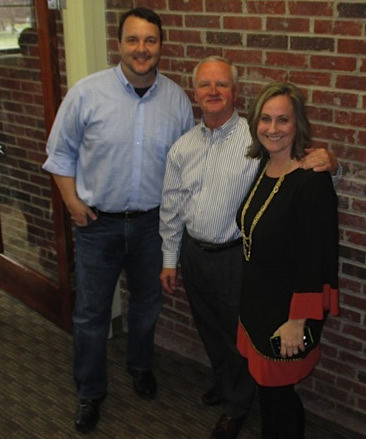 Lisa and Brian met during their college years while attending Ohio University and relocated to Charlotte, North Carolina after graduation. They spent some time trying to start careers in their chosen fields (Lisa in communications and Brian in graphic design) but struggled to find employers willing to hire them without any experience. For them, a great option was to start a business of their own.
"We've always been risk takers," said Brian Perry, Art Director and Co-founder of Perry Productions, commenting on the initiative he and his wife utilized during their early twenties when starting their business. "For me, as someone who played baseball throughout college, I've always kept in mind the idea that you'll never be able to steal second base if you don't take your foot off of first."
Drawing from their chemistry, confidence, and work ethic, Lisa and Brian opened Perry Productions in 1994, originally operating as a graphic design firm. After more than two decades, the company has grown to offer complete services in the areas of graphic design, digital marketing, and website development.
First-Time Tenants
When they decided in September of 2014 that they needed to transition into a commercial space, the process seemed daunting. They weren't experienced renters and most property owners wanted them to commit to a lease of three or more years, which didn't give the Perrys the flexibility they wanted.
"When we first started looking at office spaces, we were a little intimidated by the idea of a long-term commitment and the potential cost associated with an upfit," said Lisa Perry, President and fellow Co-Founder.
In most cases, a commitment of several years just isn't feasible for small business owners who are looking to position themselves for growth, but aren't quite sure how fast this will take place.
"One of the things we loved so much about the Synergy Office Suites at The Old Creamery was the fact that each office is leased month-to-month," said Lisa. "It gives us the flexibility we need to grow our business at our own pace, which is very important as we work to balance the size of our team with our increasing client base."
Growing a Business
Since moving into the suites, Perry Productions has expanded to include two other full-time employees and a part-time intern. The company has been able to utilize the option of leasing a pod of units, allowing employees to work within a comfortable proximity to each other. In regards to the growth of their client base, the Perrys cite their relocation to the center of Concord's business community as a contributing factor.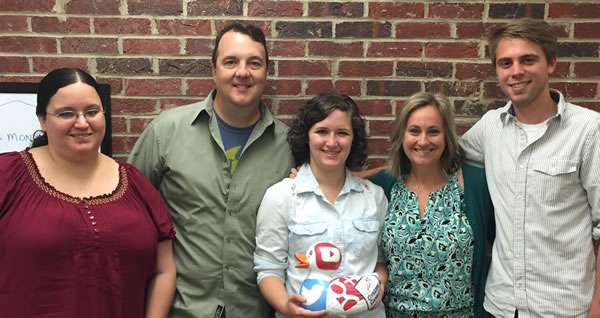 "It's great to be around other small businesses and have the opportunity to develop professional relationships on a daily basis," Lisa said. "I also feel that moving into this space has put us on a level playing field with larger businesses within our industry."
In regards to the building itself, a former Coca-Cola distribution center and local creamery, Lisa stated the blend of historic charm and modern appeal create a unique work environment.
"The fact that the building has been revitalized and given new life while maintaining some of its original features has been important to us. It creates a certain atmosphere I think you're less likely to find in a more traditional office space," she said. "The building has personality, which I think helps facilitate creativity among our team members."
A Proven Concept That Works
Along with its unique atmosphere, Synergy Office Suites also provide tenants the use of several shared amenities. Each tenant has access to a fully equipped conference room, a spacious, high-ceilinged reception area, and a break room complete with a refrigerator, microwave, and sink.
Harris Morrison, Principal Manager of The Old Creamery, has owned and managed the property since 2008 and has strived since the beginning to create efficiency within the space.
"We wanted to develop these suites as a place where local businesses could come and thrive within a shared space," Harris said. "One of the aspects that really makes a difference for our tenants is the fact that they receive the full benefit of having access to the shared areas, but pay only a fraction of the cost."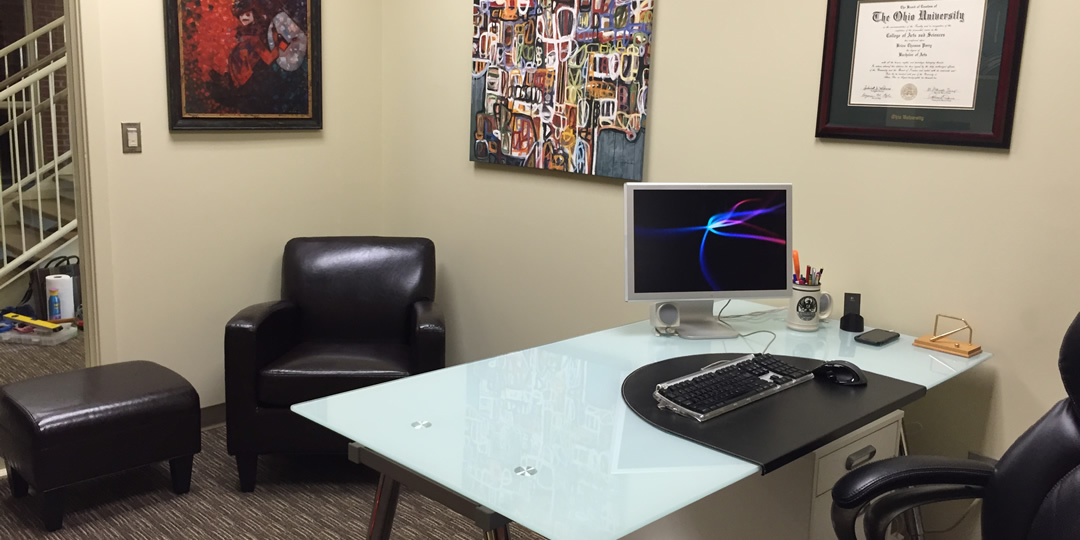 Because many of the Synergy tenants are small businesses, several of which are operated by only one person, it isn't hard to imagine why these shared features would be appealing.
"When you're a small business of three or four people, you don't need a large-scale office all to yourself. Unfortunately, this can sometimes make meeting with clients a bit harder because it can be difficult to find an official meeting place," said Lisa. "Having access to the conference room has allowed us to hold more formal meetings and has provided us with more scheduling flexibility than ever before."
Harris Morrison Company recently announced the addition of 13 brand new executive office suites in a new phase. The offices are available for lease as office pods or by the individual office and will be have short-term lease options.
"We're certainly pleased to see our tenants doing so well in this space," said Harris. "It makes us very excited to add new Synergy suites to the property and continue making a positive impact on the local business community."
If you are interested in visiting our available space, please feel free to contact us at 704-786-8888 or email us at This email address is being protected from spambots. You need JavaScript enabled to view it..