Tenant Spotlight: Law Office of Heather Mobley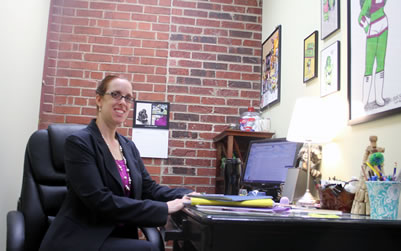 Meet Heather Mobley
A native of the Charlotte area, Heather Mobley graduated Magna Cum Laude from Appalachian State University with a bachelor's of arts in political science in 1998. After spending a few years post-graduation working as office manager for Mobley Electric Company, a business owned and operated by her family, Heather decided to pursue a career in law. She attended Wake Forest University Law School and graduated in 2006, taking a job soon after as an attorney with a family law firm in Greensboro, North Carolina. After spending several years building legal skills and gaining experience at the firm, she decided in 2011 it was time to open her own practice.
Building a Business
When she initially opened the Law Office of Heather Mobley, Heather was operating from a location in Mount Pleasant, NC. As an attorney focusing on family law, part of her daily work included representing clients at both the Cabarrus County Courthouse in Concord, NC and the Department of Human Services in Kannapolis, NC, each over twenty minutes away from her office. While she enjoyed her time in Mount Pleasant, there were times when the distance complicated matters for her clients.
"Sometimes clients either were unable to drive or didn't have access to a vehicle," Heather said. "Buses didn't travel to where I was originally located, so in these cases I would need to meet my clients in Concord, where public transportation is available."
Eventually, the complication prompted Heather to find a space closer to the courthouse and the DHS. She wanted to be able to create more efficiency within her day-to-day life at work.
"Since I've moved my practice to Concord, I've really benefited from the fact that I'm so close to the downtown area," she said. "My proximity to the courthouse and the availability of public transportation has simplified things for me in a big way."
Finding a Community
Heather began looking for a new office space in February of 2015, after spending close to four years at her previous location. As the sole employee of her practice, she knew that in addition to being closer to the courthouse and the DHS, she also wanted to find a location that gave her the opportunity to interact with other people during the work day.
"As an attorney, it's obviously important that I have the privacy I need when working with clients," Heather said. "But I also wanted to find a space that would give me a chance to see and interact with other people on a daily basis. Working on your own can be rather isolating at times, so I'm happy to have found a space that's shared by several other business owners."
The other tenants of Synergy Office Suites represent several areas of business, including marketing and web development, speech therapy, software development, and even additional areas of law practiced by other attorneys in the building.
"It really is like a community here in the office," Heather said. "I think sharing this space with different businesses has been a great advantage for each tenant because we can help each other in different ways."
Earlier this year, Harris Morrison, owner and property manager of The Old Creamery, announced the addition of 13 brand new executive office suites in The Old Creamery business park. These spaces include the same shared amenities available with the original 14 Synergy suites, such as access to a fully equipped conference room, welcome lobby/reception area, and breakroom. The spaces are now available on short-term lease either as pods or as individual offices.
A More Efficient Workplace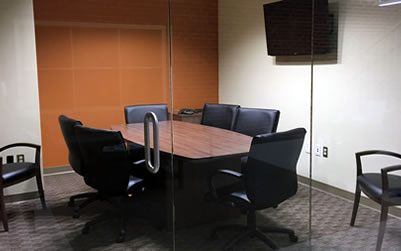 Of the several shared amenities available with Synergy, Heather feels that one of the most beneficial to her practice has been the shared conference room.
"Running a business on my own definitely has its perks," she said. "Like the fact that I don't need much office space to get things done. But sometimes meetings with clients include larger groups of people, which means I need to have access to a space that can accommodate everyone."
The Synergy conference room is fully equipped with a smart TV for business presentations and can comfortably seat eight people. The space also provides tenants reliable, high speed internet, allowing for efficient meetings.
"It's made it easier to coordinate meetings with my clients," Heather stated. "We've got a great calendar system, so I'm able to be flexible meeting client scheduling requirements."
According to Harris Morrison, this benefit is by design. Synergy Office Suites was intended for small businesses and makes certain resources available for all tenants in order to create an efficient workplace.
"It's great to see that the conference room has been so valuable for Heather and our other tenants," said Harris. "It's an amenity you'd expect to find at the office of a larger business, but because our goal has always been to put the space to use in the most efficient way possible, each company is able to receive the benefit."
If you are interested in visiting our available space, please feel free to contact us at 704-786-8888 or email us at This email address is being protected from spambots. You need JavaScript enabled to view it..